Overview of knowledge about Ecological Board Nail
---
Ecological Board Nail refers to a pointed-shaped hard metal (usually steel) that is used to hold things such as wood, and a hammer drives the Ecological Board Nail into the item. Ecological Board Nail has a wide range of uses and uses in many scenarios. Generally, the price of Ecological Board Nail is relatively cheap.
Ecological Board Nail can be used for plywood and batten installation in the decoration industry. Ecological Board Nails such as wood-integrated rattan furniture in furniture manufacturing industry: Made of high-quality 45# carbon steel, with unique design, reasonable structure and exquisite appearance, it is suitable for light wood keel connection.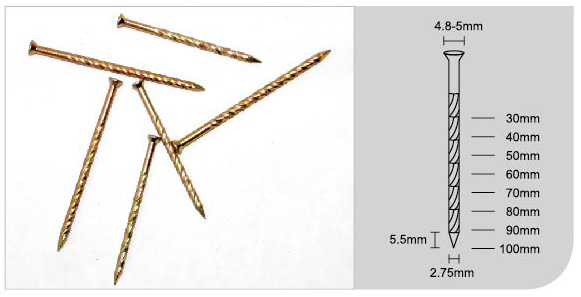 The length of the Ecological Board Nail should be 2.5 to 3 times the thickness of the nailed workpiece. In order to increase the firmness of the connection, there should be an angle when nailing to form a dovetail oblique nail combination to produce a hook effect. For wood nails, the long ends should be sawed first to reduce the splitting of the wood. When nailing the Ecological Board Nail, the nail holes should be drilled first, and the hole diameter should be slightly smaller than the nail diameter. For each connection surface, at least two standard Ecological Board Nails should be nailed to ensure the connection is firm.
---